ADVERTISING
The World's Most Respected Brands trust us to tell their stories.
Commercials is where we started, and is in our DNA.  Team at Chrome Pictures has created countless commercials on variety of subject matters with exclusive storytelling ability that elevates brand message.  With our budget-friendly approach, we create spectacular commercials for brands & agencies that balance interesting creative's with rock-solid strategy. The process to honing down your message and packaging it in the most exciting Audio-Visual format in a memorable way is something Chrome Pictures has the experience and resources to bring your idea to life.
Hope You Enjoy Them.

Feature Films
We are the First Advertising Production House in India to breach the Rs.200 crore, that too on debut! 
Badhaai Ho, Directed by Amit Sharma is a quirky coming-of-age comedy Drama Feature Film, starring Ayushmann Khurrana & Sanya Malhotra. Amit Sharma not only caught the emotional pulse of moviegoers in India but Overseas too, declared a block buster in first weekend itself by all reputed trade analysts and film critics. The film went on to win 25 film awards including the prestigious National Award for the " Best Popular Film Providing Wholesome Entertainment". 
Amit made his directional cinematic outing debut with action flick "Tevar" in 2014, starring Arjun Kapoor and Sonakshi Sinha, Produced by Boney Kapoor. 
Aleya Sen makes her Bollywood debut in 2018 as Writer and Director of "Dil Juunglee", a light romantic comedy, featuring Taapsee Pannu and Saqib Saleem. Shot mostly in London and partly in Delhi, the film is garnered with top chart busters of 2018. 
Chrome Pictures believes in content driven feature films and producing top class entertainment that excels in the world of Cinema for the audiences across the ball. We aim to establish ourselves as industry leader that creates, develops & produces ground-breaking films. We are open to collaborating not just with the big honchos but also with budding & talented writers & filmmakers and provide a platform to shine.

Web Series
A distinctive content is under construction which will be a remarkable feat in the world of Digital platform.

MUSIC VIDEOS
The history of 'musicals' in India dates back to centuries. It is evident even today in our Bollywood films, as our audience connects with it. We have worked with Indian artists & talents who have created chart busters and have global fan followers like Guru Randhawa, Amaal Mallik, Mohit Chauhan, Tanishk Bagchi, Arijit Singh, Shaan to name a few. From storytelling in a song to a smashing beat of a club song to travel song with friends, different moods and vibes are covered with perfect videography. Our Directors bond with musicians to let them craft impactful messages with their own distinctive approach and style. We are trusted to create and produce high profile projects for the leading names in the music industry.

We would also like to explore possibilities to collaborate with talents from the other side of the globe.


INTERNATIONAL COLLABORATIONS
Chrome Pictures collaborates with International Production Houses that give our content a popular platform or are looking for content. Are you high on ambitions and low on budget? Planet Chrome can bring about creative solutions that can make both the Producer and Director Happy. We are a creative hub and have an itch to accept challenges if the script appeals us. Do not think twice before contacting us for a smooth, hassle free production for international filmmakers seeking the beauty, bright and vibrant Indian landscapes with an eclectic mix of different cultures and people. When you come to India, all that you should worry about is how to entertain your client and crew that is if you are travelling with them. Our team will be happy to assist you with that as well.

DIGITAL FILMS
Minikin DGWorks- A dedicated digital wing of Chrome Pictures has wide opened its door to cater to digital world of filmmaking. Everyday many of us are on internet. We understand online audiences and our focus in on to raise our client's credibility that strikes a beat in the heart & brains of your digital target audience. With a passion to turn projects of all sizes into a smashing success, Minikin DGWorks follows strict processes to ensure that each digital films is produced from beginning through to completion to the highest standards. The vision stays to up the mark - in terms of narration & aesthetics with every shoot - because it's so important on digital to break passé patterns against competition.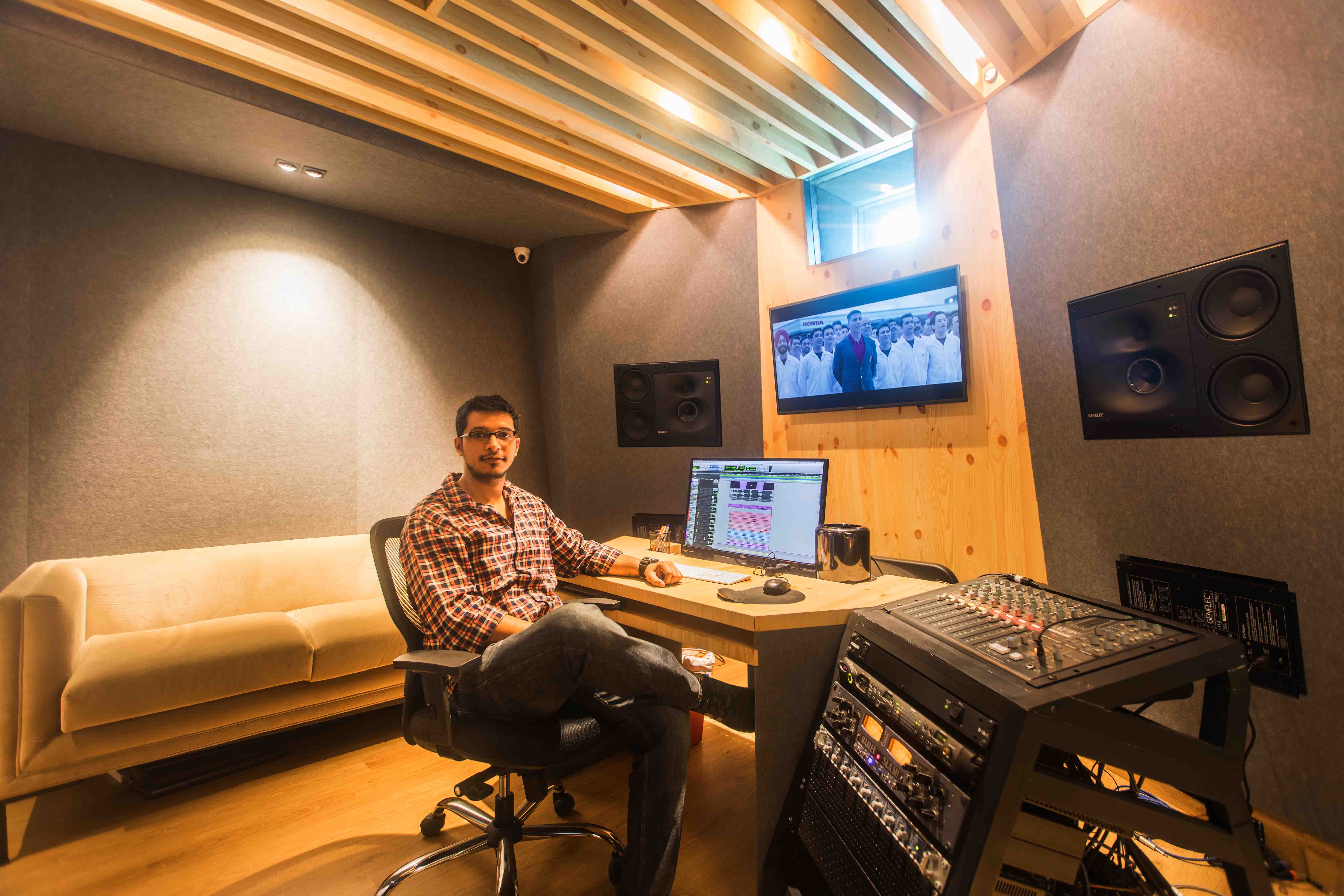 Sound Studio is a state of the art Studio for complete Audio Post Production starting right from recording to mixing and mastering.
The Studio is spacious private one room equipped with a variety of Microphones and Pre Amps. The Digital Audio Workstation (DAW) used here is Pro Tools (12.8) which is the Industry Standard all across the Globe. The Studio has a wide variety of Plugins like Waves Mercury Bundle, Fab Filter Mastering Bundle , Slate Complete Bundle to name a few that redefines one's recording experience. For Monitoring purpose, the Genelecs 1038 CF along with a dedicated Sub- Woofer is used. We have an Experienced & talented in-house sound engineer Rishabh Bose who strives to bring in exceptional outlook & understanding to any project. We also do welcome freelancers for alliances.
People say that the editing table is where the film finally comes together. Even if you've shot to a well-planned set of scenes you wanted, things often change and get better on the editing table. Beyond story, this is where the rhythm of the film is established.
We have three professional offline edit suites in our spacious, light-filled, state of the art designed office, equipped with high-end editing workstations.
We believe the better we craft our films the more we help our clients reach an audience.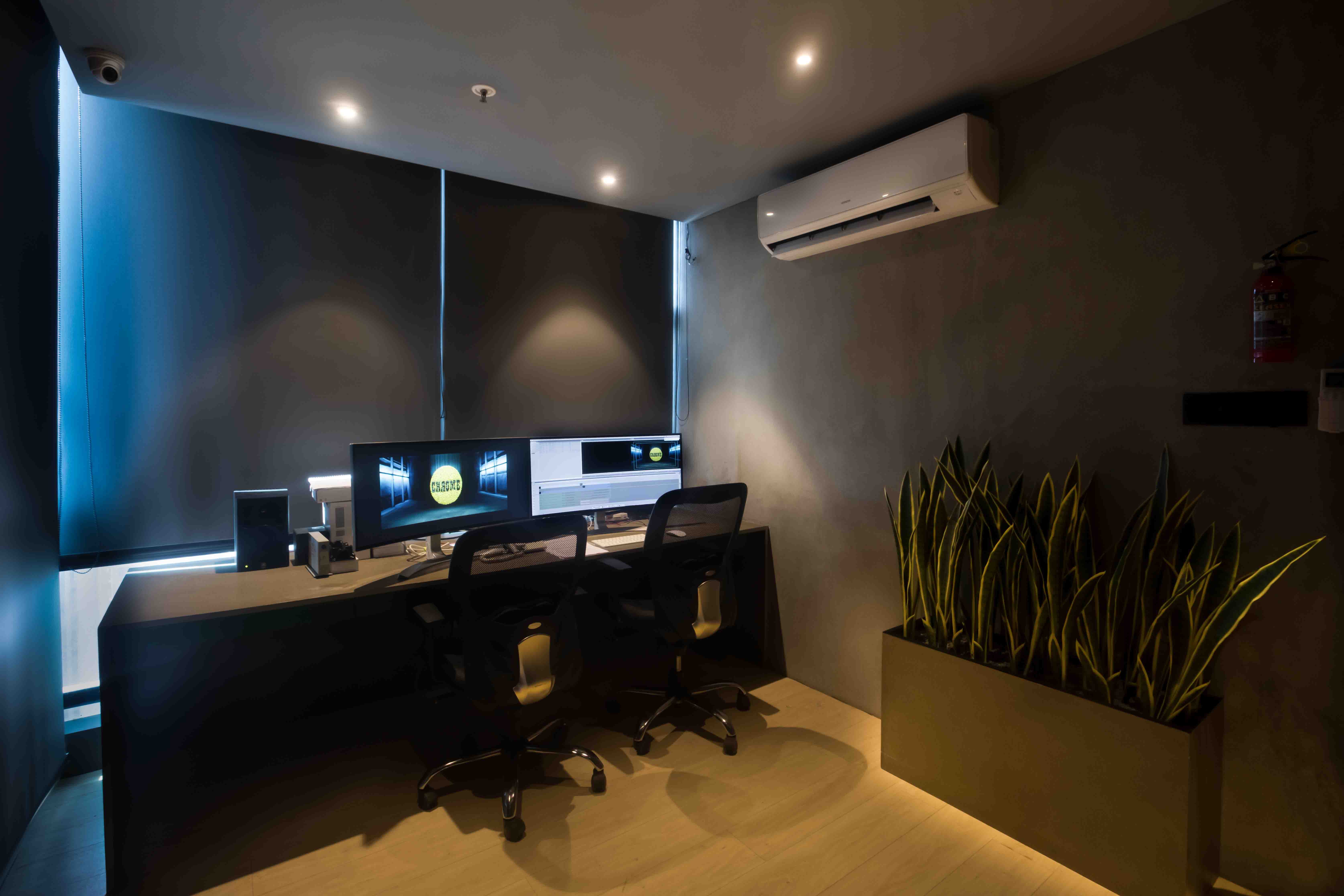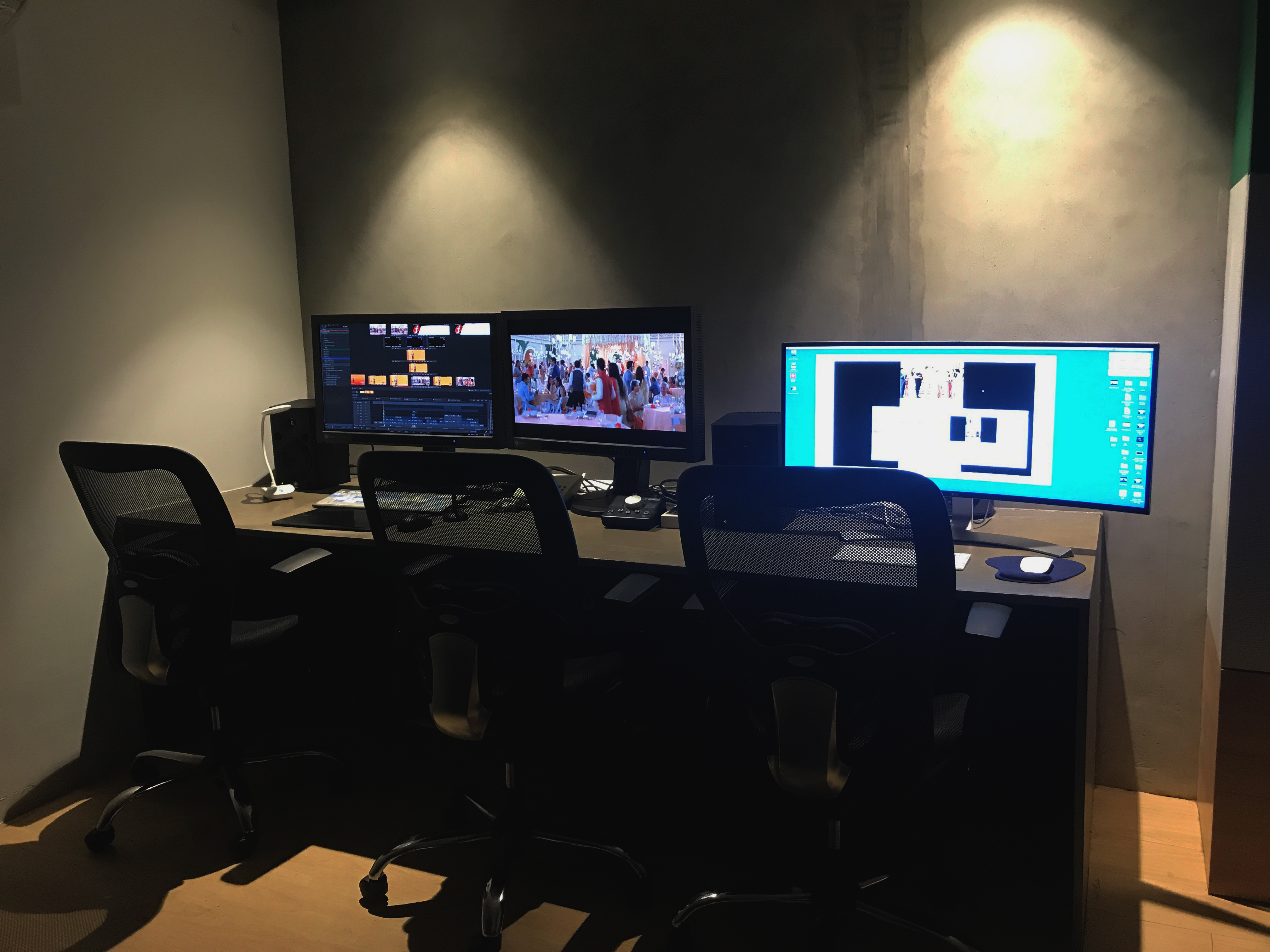 Whether working in SD, HD, 2K or 4k we can offer the widest range of creative tools to help Directors realize their artistic ambitions. From complex compositing or Beauty work, our artist has the experience and expertise to ensure your creative brief is fulfilled on every project providing scalability and powerful online performance. We can take any footage and really make it pop, sing and enhance the viewing experience of your project. With us, sky is the limit.