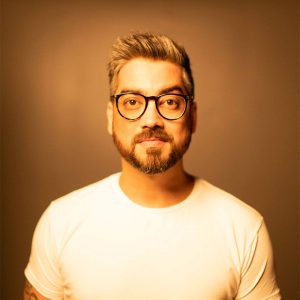 AMIT SHARMA
"Intoxicated? The word did not express it by a mile. He was oiled, boiled, fried, plastered, whiffled, sizzled and blotto."
– P.G.W.
When a precocious young man became a co-founder and director at Chrome Pictures at the age of 24, little did he know the ad-world was soon to become his playground, where he began to weave his own world of characters and bring them to life and hold the masses in his narrative grip, where he would go on to excite and entice them with multiple flavours to feast upon. Amit Sharma has been an enthusiastic cinephile since his nascent years. He has been fortifying his reputation as one of the most sought after commercial director, with a clever mix of wit, drama & realism.
Amit holds a sharp eye for detail and has explored almost every basic human emotion & humour with diverse complexity and has carefully designed, a specific craft for each film that came his way.
He understands his actor's pulse from the very first look test and knows how to strategically extract the best of emotions and carefully put them to use in the most meaningful scenarios which are pragmatically re-designed by him to influence the deepest corners of one's heart and leave an everlasting impact on their minds.